Introduction/ Narrated by Harry Hurst
A podcast series compiled from oral histories and produced as part of a digital exhibition exploring how Liberal Judaism has evolved since it was co-founded by British visionary Lily Montagu in 1902.
This episode explores the theme of family background and finding Liberal Judaism
In this series you will hear the voices of Liberal Jews as they share their experiences, views and visions. This first episode explores participants' family background and how they encountered Liberal Judaism. It includes some of the stories about where they came from and the personal appeal of Liberal Judaism.
As you will hear, Liberal Jews come from many places; some are refugees or immigrants, some are born into Liberal Jewish families, others are Jews by choice. All are united in finding a home within Liberal Judaism. Following Lily Montagu's personal legacy, they all contribute to Liberal Judaism's rich and varied heritage.
"When you're interviewing me,as you know me as Joanna Kessler, but when I was born, I was born in Vienna, on the 20th of August, 1929. My name was Inge Johanna Rubner  . And that was the name that I was known by until I was 16. I grew up in Vienna, in quite a nice flat and what was known as the third district, quite a reasonable district of Vienna. My father was a civil engineer. He had a good job. My mother had been ill all her life. She suffered from TB. She spent a lot of time in hospital. I was brought up to a large extent by my grandmother, my mother's mother.
When I was six years old I went to school, this was the local school, just up the road, which would have been 29, 1935. And all was well at the school until Hitler came and all the Jewish children were made to go to separate schools, to Jewish schools. And the little sort of cohort of parents used to accompany us, but in the end, those groups were attacked, so we stopped going to school. My father began to think of possibly coming to England. My uncle was a banker, quite a well-known banker in Vienna and had a connection with the Westminster Bank of England.
And when my cousins came to England, finally, they also set about getting visas for the rest of the family. And one of those visas I got to come to England. Now, how was I going to get there? Nobody else had a visa. My father advertised me in the Jewish Chronicle. And he got several replies. But he finally accepted an offer from a Jewish family in London a doctor's family. This family was a part of the Liberal Jewish synagogue. And the Liberal Jewish synagogue at that time had a chairman, Lily Montagu, she was the chairman. She realised what was happening on the continent. She called the meeting and she said, 'We must help'. Several families came forward. And in fact that the Liberal Jewish synagogue made it possible for three children to come to England. I came from Vienna. Another one came from I think, Germany, and I'm not quite sure where the third one came from. But anyway, the date finally came.
And I was on one of the very first Kindertransports, leaving from Vienna. I thought a lot about it, I was going to take my games, I was going to show off, I was going to sing. I was really rather looking forward to it. But when the time came to say goodbye to my mother, it was really very painful and my father took me to the station, there were lots of other children there, parents and grandparents. And he handed me over to the girl who was arranging my Kindertransport. She was a 19 year old girl, a Quaker who had put herself in charge of the seven children on the Kindertransport. And off we went. My cousin was there to meet me and handed me over to my English family.
I was unhappy. And then they decided to send me to boarding school. Boarding school was heaven, because if I was unhappy so were a whole lot of other people, and the boarding school was run by a Quaker lady. And I spent a happy term there.
I think my family obviously were members of the Liberal Jewish synagogue and the other two families who also paid for me were in fact rabbis of the Liberal Jewish synagogue, so technically I must have been made a member when I was nine years old. When I went to boarding school, the Liberal Jewish synagogue used to send me correspondence so that I could do the religion classes which were being held for children at the synagogue. I think any children at that time, evacuated or at boarding schools, received these correspondence courses. Apart from that I didn't really have a link with the Liberal Jewish synagogue and in fact, when I went to Swanage, I had to go to church as well. And I got a bit annoyed, having to do Jewish correspondence classes as well as having to go to church but I went on doing them. And the Liberal Jewish synagogue at that time did not believe in Bar Mitzvah. They felt that children were not old enough at age 13 to commit themselves to any religion. That should wait until they were 16. So no Bar mitzvahs or Bat Mitzvah at the LJS, but there was a confirmation at 16 and, and in fact, I came to London when I was 16 and I was there in time for my confirmation, and also for the week before, when classes were held for the confirmation service. And so in 1946, I was confirmed at the Liberal Jewish synagogue where obviously I continued as a member but not as a very interested member, I must admit."
Jo Kessler
"
I was born in King's College Hospital, Denmark Hill, 90 years ago. And oddly enough, I was there 20 years ago to welcome my granddaughter who lives in Dulwich. My father Sam, was born in 1904. He was the oldest of 8 children. He was left an orphan if you can use that word, when his father was 47 – he died. And my father was the mainstay for his younger brother and his sisters. An enormous family and he was very much the boss. Because he was a short man, five foot four. But he had a big personality. Unfortunately, he died when he was 67. In the fullness of life, he had a lot to live for. But he died young. My mother Janie, an innocent, plucked from her virgin life in East London by my father. They weren't exactly the most idyllic couple, the most beautiful couple, but they got on.

They survived, had two children. I was the older, then my brother, Mac, Malcolm was the younger and we were a happy family until the war. And then when the war started in 1939, my mother, being a typical Jewish mother wanted only to get her children out of harm's way. And so we were evacuated out of London. I went to Stevenage in Hertfordshire. I was billeted for the most part with a family called Swain. And I was brought up with them through the war, until 1942. When I came back to London, it seemed that the threat of extinction had disappeared. And then in 1944, or thereabouts, the V1s started in London, and my mother, terrified yet again, dispatched me to Cambridgeshire, where I went to live with Rosalind and Trevor in a house called surprisingly Rostrevor, in Chatteris in Cambridgeshire and that started a new chapter of my life because I then joined Whitechapel Foundation School, which was evacuated there.

I came under the influence of a classroom of 15 year old boys. Alderman, Bloomberg, Weinberg, Greenberg. Berenbaum, Gold. As you can gather they were all Jewish. And this was a Church Foundation School. However, we were all Jewish boys in a totally non Jewish environment in Chatteris in Cambridgeshire. And that was where I spent my adolescent years. Loved it. I enjoyed every second of it.

Shimmy Rosen our maths teacher tried to keep the Jewish boys together with Judaism. To some extent he succeeded, I suppose. But for the most part, it wasn't our sort of Judaism. And so at the end of the war came back to London. I came back to Stamford Hill, I joined the Stamford Hill Boys Club. I was involved in Jewish life to that extent, but not in synagogue life at all. My mother was traditional pots and pans Jewish, wanted me to be part of the Jewish community but going to synagogue on a regular basis, which I never did. And then she gradually conceded that we were never ever going to be a religious family.

I was Bar Mitzvah in Lampard Grove, on Stamford Hill. At the age of 13 it was a big event. I was a star attraction because I had a lovely voice even then, still have!
So I was a member of the United Synagogue but reluctant – I didn't like it, didn't want to be in there and was forced to go to services at High Holy Days by my mother. But I skipped out and went out with my mates and we went to cafes and whatnot and did all the wrong things. And then I discovered the North London Progressive Synagogue. There, I found people and a home which I enjoyed. I've been in Finchley since 1953. When we got married, and Leslie Edgar said, "You're living in Finchley, there's a new community there. Would you go and join them?" Which we did. So we've been involved in that synagogue ever since.
"
Lionel Lassman
"
I was born in Southampton, 1971. My father is Jewish, my mother is not. My father was brought up Jewish. Not strictly Jewish, but you know he had a bar Mitzvah, did the High Holy Days and all of that sort of stuff. He was actually brought up in London, in the West End. I think his Bar Mitzvah was in the Central Synagogue. So he quite a sort of Jewish upbringing. Not strictly religious, but very much a Jewish upbringing, he actually went to a Jewish boarding school as well called Whittenham college. But he met my mum at University and he married out. And when they had children they basically made a decision that they weren't going to raise us , I've got a brother who's 18 months younger than me, they weren't going to raise us as either Jewish or Christian. It was very much we'll let them come to their own conclusions. But obviously when you do grow up in the UK, you know, you get the Christianity stuff kind of by default. So I was kind of brought up in a very sort of secular but with a lot of Christian festivals, simply through virtue of the fact that I grew up in the south of England in the 70's. I don't know exactly when I started becoming interested in the Jewish side of my background. But I kind of think I always was, a little bit. We were always aware of it. It was you know very kind of talked about. And I suppose when I was kind of like in early teenage years, you know, in a very depressing way, you become aware of things like the holocaust. So I suppose yeah I started just becoming just more interested in kind of Jewish history side of things in my teenage years and lots of other things were going on obviously and I actually had my daughter very young as well and then I think certainly in my twenties I became more interested in sort of Jewish history and culture in a wider sense and started reading a lot more about it and started, yeah, just being really really interested in it.

And then since my twenties I've always kind of had a very clear affinity with my Jewish background, but never actually got round to doing anything about it in terms of joining any kind of Jewish community. I had a couple of friends who were Jewish in the same way as I was but not you know really didn't belong to any Jewish community at all but the interest was always there. A lot of the books that I read are Jewish, not all of them but a lot of the books I read are Jewish, a lot of the music I listen to is Jewish. I like Jewish films, and Israeli Netflix dramas and all of that kind of stuff. And it was only literally last year, when my daughter left home, because she bought a, she's sort of grown up and bought a house and is getting married, , that I actually thought, 'I'm actually going to think about joining a synagogue now', you know, at the age of 47.
And I knew that Kingston Liberal Synagogue was nearby cause I'd looked before, I was aware of synagogues in my area and thought why not. And Kingston Liberal was the obvious choice, because, it's probably not the most local one, but obviously I was aware that Liberal Judaism were very welcoming to patrilineal Jews, and, you know, I wouldn't be kind of rejected and told I wasn't Jewish 'cos my mum wasn't Jewish, and I didn't want to kind of go through that, kind of 'Well, you're not a Jew because your mum's not Jewish,' sort of thing, because I feel like I am a Jew, and I do feel very Jewish and always have done. But I don't think there was a turning point for me, I think it was an evolution. If you'd asked me in my twenties am I Jewish, I would have probably said, 'Well, sort of, my dad's Jewish and I kind of feel Jewish and yeah, I suppose, but I'm not really sure.' Do you know what I mean, that's kind of the answer I would have given. Now I would say yes, undoubtedly .
"
Rebecca Singerman
"
I was born in a very, very traditional, conventional middleclass Irish family, all terribly safe and very, very relaxing and it was a world sort of unthreatened by anything. But my first sort of challenges basically were as someone that was severely disabled. I had a condition called Marfan syndrome, that meant I was very short-sighted and profoundly deaf, but to my parents' credit, despite medical indicators, they encouraged me to go to the same school as my brothers and fortunately for me, I learned to fit in. I was left in peace and learned at my own pace. So that meant I was never under pressure, which I personally think was a good thing.

As I headed towards a young adult, I seemed to have gained a great deal of confidence in myself and wanted to learn, so I caused quite a shock by passing the equivalent of O' levels and A' levels and decided I wanted to go to university. Applied, got a place in Trinity College, Dublin, but it really was impossible for someone who was deaf to cope. Because the lecture halls were vast, lecturers just stood in the front and mumbled. There was no support networks in the way of any form of notes and anything like that. On top of that, I was discovering my sexual identity. I realised I really wasn't fitting in because at the time, Dublin was very homophobic. So between difficulties as a deaf man and as a gay man, made it impossible for me to cope and I decided to drop everything, drop out and leave. So I decided to emigrate to paradise, as I thought then, was London. Now, this is where my story to Judaism begins. It goes right back to 1973. So I found an advert advertising cleaners…. just by chance my first assignment was with a woman called Rita Lawson, who lived in Golders Green. And we got on straight away.

So the next thing I knew, Rita was introducing me to her friends, who also were Jewish I would quickly zone in to Jewish culture, in the sense that would be helping prepare for Shabbat because, you know, then I sort of got to learn what the fuss was about for having everything looking beautiful for Friday night. Then as time went on, friendships were formed and it wasn't just a case I was coming to clean for Shabbat, but I would end up being invited for dinner, so at first hand being introduced to Jewish liturgy. Because at the end of the day, shuls are important but the centre, if you like, of Jewish liturgy is in each Jew's home and I think that's you know a very, very important point to remember. Then of course I was fascinated, as time went on, learning about the absolute chaos of preparing for Pesach. I mean, that was really a full time job if you were doing it properly. Amongst the women I worked for, they were all of different shades of Judaism, if you like. Some orthodox, some reform, some liberal, some nothing, some secular, you name it, but it wasn't always too apparent who belonged to what. The humanity and personality was always first, but also, as I learned as time went on, people were signed up for all sorts of different reasons to different communities, but at the end of the day, it always seemed to me that they interpreted their own Judaism, if you like, and I think really the communities are less polarised than other people would like to think.

Next thing is I met a guy that I started to have a relationship and he'd asked me to live with him. The guy happened to be Jewish, but secular and was only sort of discovering his own family. I enjoyed supporting him, discovering his identity as a Jew because at this stage, I knew quite a bit. A few year passed, I separated from my partner. Now, my reaction was this is a sort of time for another complete change, so I thought what will I do next? So I thought, university. I applied randomly to six universities throughout the UK. All Six offered me a place. So I picked Manchester.

My supervisor his PhD was based on none other than Claude Montefiore, so sort of realised where Liberal Judaism was coming from.

I started to think well, academia's all very well. Time for action. I literally started just exploring on social media and the first thing, I came across Rabbi Mark Solomon. I thought this is really interesting because I'd read a little bit about his history to date and sort of the fact that he was out as a gay man and yet had a respected position, that in itself was attractive. So basically I just emailed the Manchester Liberal Jewish Community, which I knew nothing about.

So I started attending some of the classes and one thing led to another, it just felt comfortable, and enjoyed it. I sort of looked forward to attending the services. What I really loved, even though there would be Hebrew so much was so familiar to me.

I was getting a taste for community development I think I felt the idea of a Liberal Shul in Manchester was so important. Obviously at this stage, I did very definitely need to go through the formal conversion process, obviously quite a process. Clearly I had to demonstrate why I wanted to convert but more importantly, to demonstrate I understood what I was converting to. I really think the future is looking rosy because I think the new generations coming up, and with the sort of idea of Progressive Judaism, rather than sort of very hard and fast ideas, sort of there's so many different Progressive Jews all coming together without losing their identity.
"
Owen Power
Conclusion
This podcast series of oral histories is part of the exhibition: Lily's Legacy – Voices and Visions of Liberal Judaism, a project supported by The National Lottery Heritage Fund. 
It was produced by Miri Lawrence and Lucia Scazzocchio, Sound editing and design by Lucia Scazzocchio, and special thanks to all the contributors who agreed to share their stories. For more information about what you've just heard, do visit the exhibition website,  www.lilyslegacyproject.com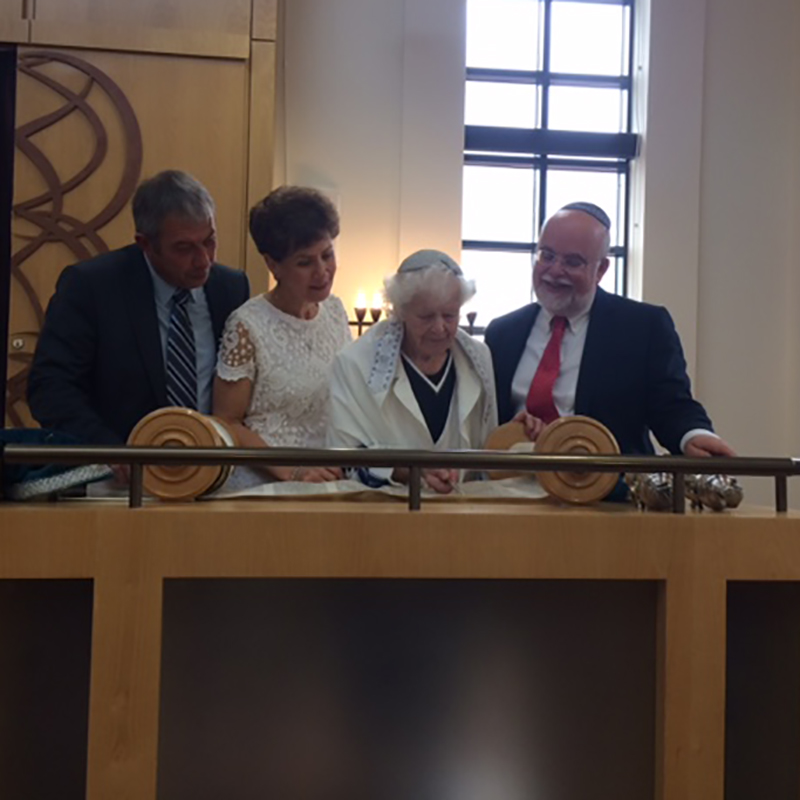 Journeys
Liberal Judaism began in the 19th Century in Britain and was formed by Claude Montefiore, Lily Montagu and Israel Mattuck. Liberal Judaism continues to be dynamic and questioning, and offers an authentic and modern approach to Judaism. The Movement is committed to helping its members embark on their personal and spiritual Jewish journeys. Liberal Jews come from a range of backgrounds.